NOVO MIDLAND GXT1050
NÃO COMPATÍVEL com a maioria Walkies comuns (Não é compatível com Walkies PMR 446MHz)
MODELO EXPORTAÇÃO

MIDLAND GXT1050VP4 com todos os seus acréscimos Edição Especial de airsoft esportes ao ar livre Exterior Cor Preto e Prata Ao longo alcance 55 km! A fábrica mais potente-Mercado Item completamente novo e GARANTÍA Novedad Midland -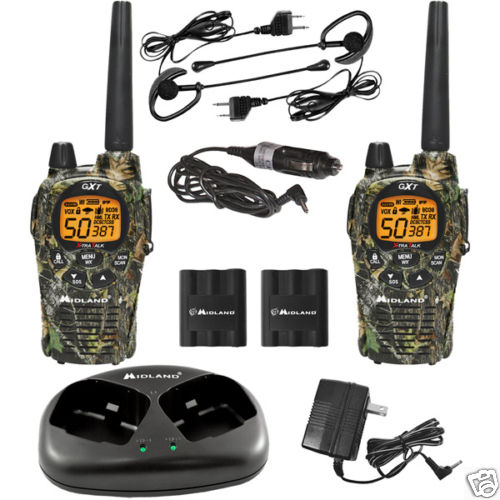 O kit inclui: 2 walkie talkies, carregador de mesa duplo com indicador LED, 1 transformador de CA, 1 carregador de carro (liga-se ao isqueiro), 2 baterias recarregáveis nihm, 2 auscultadores com microfone, clipe de cinto 2 presilhas

Rádios 2-Way
Modelo GXT1050VP4 (GXT1050)
36 Milhas 57.6 Kilometros *
Os mais poderosos rádios portáteis de 2 way que você encontrara no mercado . (GMRS/FRS)
Totalmente desenhados para o lazer, caças, trabalho, na Moto, barco, bicicleta ou carro, acampar, escalar, na lanchas, na praia, em uma excursão, de bicicleta, esportes extremos, para segurança corporativa, eventos, shows, ou simplesmente para comunicar-se com lugares remotos ou com seus familiares em algum centro comercial ou lugar que esteja de ferias, estes serão teus companheiros perfeitos.
É resistente a água (JIS4).
ESPECIFICAÇÕES TECNICAS:
* X-Tra Talk Power. O Maximo permitido por lei.
* 22 Canais GMRS mais 28 canais extra (Total 50 Canais)
* Alcance de 36 Milhas (57.6 km) de distancia em condições livres (dependera da topografia da sua região, prédios ao redor e sinal aberto,etc.. esta distancia e estimada pelo fabricante em área livre**
* Scanner NOAA Alertas de Tempo, * Sirene SOS para avisar que esta com problemas.
* Alerta Vibratório, * 3 Níveis de Sensibilidade para Mãos Livres
* 387 Códigos de Privacidade, lhe dando 5560 opções de canais lhe ajudando barrar outras conversações,
* scanner automático nos 50 Canais
* Configuração de Power em Alto/Médio/Baixo (economiza Energia)
* 10 Códigos de Alarme
* comando de Mãos Livres
* Bloqueio de teclado, * Usa Baterias Recarregáveis (ou 4 AA normais , não inclusas)
* JIS4 Resistente à água (não é submergível)
*Roger bip indica quando a chamada foi completa
*Auto Squelch remove ruídos de fundo
*10 sinais de chamada, diferentes som para identificar grupos
* Carregador para Casa e Auto Incluídos
* chamada direta para uma pessoa sem alertar as demais (privativo).
* Desenhado para aquentar impacto e todas as condições de tempo.
** O alcance Maximo somente pode ser conseguido na água ou em área rural aberta, dependera de montanhas ou interferências que possam interferir no radio.
GXT1050VP4 Features
22 Channels PLUS 28 EXTRA CHANNELS
Clear, crisp communication with easy button access.
Up to 36 Mile Range = 50 KMS
Longer range communication in open areas with little or no obstruction.
387 Privacy Codes
Gives you up to 5560 channel options to help you block other conversations.
NOAA Weather Alert Radio with Weather Scan
Automatically locks on to your local weather channel and alerts you to severe weather.
SOS Siren
Allows you to send out distress/locator signals in an emergency situation.
JIS4 Waterproof
Protection against light rain or splashing water from all directions on the radio.
Whisper
Allows you to speak quietly and still be heard clearly by others.
Group Call
Allows you to make "direct calls" to other people within the group without alerting the entire group.
eVOX
Hands-Free Operation (9 levels) with easy voice activation--no need for an external microphone.
X-TRA TALK Power
Maximum allowed by law.
Weather Scan
Easily scans the active weather channel in your area.
Direct Call
Allows you to instantly contact one member of your party without alerting the others.
10 Call Alerts
Different call tones to notify you of incoming calls from your group.
Five Animal Call Alerts
Includes Turkey, Duck, Crow, Cougar and Wolf alerts.
Channel Scan
Automatically checks channels for activity.
Dual Watch
Lets you monitor two channels.
Vibrate Alert
Provides silent page / call notification.
Auto Squelch
Removes annoying background noise.
Keypad Lock
Locks in your selected settings.
Monitor
Checks for any activity within your channel.
HI/MED/LO Power Settings
Lets you adjust transmit power & conserve battery life.
Roger Beep
Indicates call completion.
Silent Operation
Turns off all tones for quiet operation.
Bright Backlit Display [LCD]
Easy to read day or night.
Keystroke Tones Audible tones with each key press

Mic and Headphone Jacks

Battery Life Extender
Provides longer battery life.
Drop-in Charger Capable

Dual Power Options
4 standard "AA" batteries (not included) or rechargeable batteries.
* The advertised range is the maximum range you can get, which will occur only under ideal conditions. Ideal conditions are:
Fresh batteries
Flat, open terrain (no hills, trees, buildings, or tall vegetation between radios), for example, operation over water
Both radios are outside (not indoors)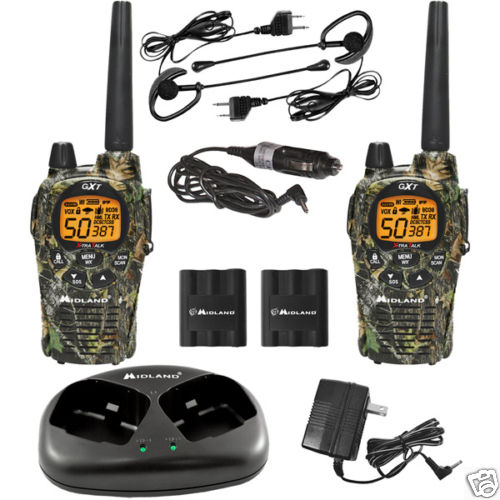 The Midland GXT-1050-VP4 boasts an amazing 5 watts of power, allowing for a range of up to 36 miles in optimal conditions (typically 2 miles or less in urban conditions). The GXT1050VP4 is a full featured radio that includes everything you need! This value pack includes rechargeable batteries, a desktop charger with AC wall and DC vehicle adapters, and a pair of headsets with microphones.

Created with the hunter in mind, the GXT-1050 adds a "Mossy Oak" camouflage coloring and 5 animal call alerts. The GXT-1050 is water resistant, and durable. This radio is designed to be used in all types of weather!

An advanced feature supported by the GXT-1050 is "group mode". If everyone in your group is using these radios, you can place the radios in "group mode" and assign a code to each radio. You are then able to make direct calls from one radio to another! No need to have everyone hear a message that is intended for just one person. In addition, when you receive a "direct call", the receiving GXT1050 will display the "caller id number" of the transmitting radio!

The GXT-1050 is also a weather radio, supporting both the NOAA weather channels and NOAA weather alerts. If severe weather is entering your area, the GXT-1050 can pro-actively alert you! Hands-free operation (with 9 sensitivity levels) is supported, and the hands-free feature is made simpler by the headsets included with this value pack! Other features include a vibrating alert, dual channel watch, selectable high/medium/low power modes, and channel scan. A 3 year warranty is also provided by the manufacturer on this model. The Midland GXT1050VP4 is also certified lead free.

The Midland GXT-1050 supports a total of 50 channels - 22 standard FRS/GMRS channels and 28 extra channels. Each standard channel supports 387 privacy codes. The GXT-1000 also has Midland's new Whisper Mode. With the Whisper Mode enabled the radio will transmit at a high sound level even if you are whispering into the microphone.

This Midland GXT-1050-VP4 value pack includes two Midland headsets with boom microphones, a two pocket desktop charger, two rechargeable batteries, two belt clips, and both home and vehicle charging adapters!
This package include
Two Midland GXT1050 Radios

Two Midland Headsets

Two Belt Clips

Dual Pocket Desktop Charger

Two NiMH Rechargeable Battery Packs

AC Wall Adapter 220V

DC Vehicle Adapter

Users Manual
THIS RADIO CAN,T COMMUNICATE WHIT PMR RADIOS OR EUROPEAN RADIOS , IS AN EXPORT MODEL , WORKS IN A DIFFERENT FREQUENCY.
We have in stock Accessories for this model and more different Radios , see our store